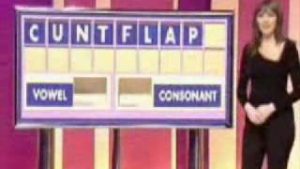 (Yeah I know this is from a different show, but it made me laugh. FecK Iff – Day Adbin)
Very Quick NOM here.
Why would anyone care? Yanks can't speak nor spell so what's the fucking problem?
For example penmanship you mean calligraphist (i reply),
Them: two lanes either-side separated by a divide
Me (yeah right fucktard): Dual carriageway perhaps?
Them: A what.
Me: TWAT
Them: ahhh twOt?
Me: ehh I said Twat, TWAT
Them: …puzzled look Twot???
Me: Oh for fucks sake.
Me: Ok Aluminium
Them: ahhh aloo min um? Is that right?
Me: What the fuck do you think?
Me: Sulphur
Them: Sulfur,
Me: It is an ancient element from 1000's of years ago.
Them: I wanna spell it like a retard
Me: What like Fosforus?
Language butchers, how can they complain about spelling practices if they can speak or spell. Just fucking burn Webster's cuntionary.
Yet Subpoaeanaed is spelt correctly by them.
Yet foetus, haemoglobin, faeces all spelt wrong with such impressive cuntitude.
Me: Favour
Them: No FavOr
Me: Check your fucking constitution!!!
Nominated by: Get Fucked Woke Cunts