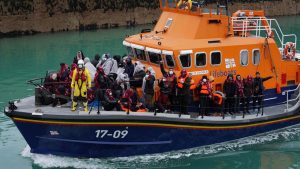 Story link : BBC News Link
Thursday 11th November was armistice day, the 103rd anniversary of the end of the first world war – a war we fought alongside France as an ally…. but the French are not an ally anymore.
We agreed to pay France £55 Million to help curtail the huge number of illegals crossing the channel from France to the UK, and what is the result ?
On Thursday, 1,185 migrants crossed the English Channel by boat to reach the UK. The French authorities stopped 99 others.
So far this year, 23,000 migrants have entered this country illegally by channel crossing, the overwhelming majority being young males.
No documents. No background checks.
They could be hardened criminals. They could be terrorists. They could be rapists or child molesters. They could be decent people seeking a chance to work hard for a better life. They could be coming to get a house, healthcare and benefits all free curteosy of GB mugs. They could also be carrying covid or all manner of infectious illness. We'll never know, because they aren't vaccinated or even tested for covid.
The UK government does nothing… "nothing to see here" – meanwhile they want to sack any health worker who isn't vaccinated, and lecture the rest of us on how important another booster jab is.
What a bloody shambles……. Another nail in the coffin of 'Great' Britain 🙁
Nominated by: Lord of the Rings
---
And there's this from Fuglyucker
These illegal immigrants are landing here in droves, what the fuck is going on about stopping this from happening, what happened to Pritstick Patel supposedly sorting this out, nothing, fuck all, jack shit is the answer to to that, the lazy, good for nothing, useless cunt makes all the right noises and pulls all the right faces, looking like that rug muncher from Alien, but is as much use as a pig roast in at ramadam.
While she is making a song and dance about sending 4 Jamokes back to the land of ganja, 400 probably waaaaay more that than that, Calais crossers have arrived here, what happened to all the hot air she spouted when she got the job, so as i see it she has done fuck all about the fucking immigrant scroungers turning up and with all the hot air she has produced has had a massive affect on global warming,
Prit stick Patel is a useless cunt, same as all the fuckers she is supposed to be stopping from landing in our fucked up country.