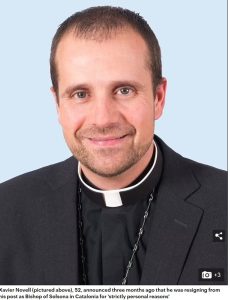 Catholicism is a cunt, isn't it.
Xavier Novell, a Spanish bishop who quit the clergy to be with his sexologist lover has found a new job: exporting pig semen.
The dress-wearing devil-dodger first hit the headlines in September after it was revealed he had fallen for 38-year-old Silvia Caballol, a divorced author of erotic novels.
Novell was a star on the rise within Spain's Catholic church loons and flogged his bishop spirit to become the youngest one ever at just 41. However, no more bashing the bishop duties from now on.
He has since found a spanking good job with Semen Cardona – a global company which exports high-quality pig yoghurt to more than 20 countries.
His resignation was accepted by the current Grand Poo-baa, Pope Adolf XVI who probably muttered something like Thou Shalt Not Masturbate Hogs in latin.
A dressy-up pervert who hooked up with an sado-masochist author and who now wanks off pigs, giving them a ham shandy for their pork custard.
'Spill my spirito satan Knob-in-hand, chokio the pork swordium wanka in glorious'
Nominated by: Captain Magnanimous