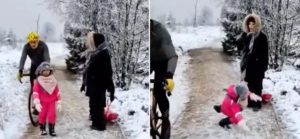 Found this story and found it quite amusing, I wasn't sure about putting it in as a nom but as it involves one of ISAC's pet hates I thought it worthwhile.
It involves a Lycra clad cunt on a bike who was riding along a path in Belgium last Christmas and managed to knock a little girl on her arse, the cunt should have stopped when he saw the gap was a bit tight but he carried on and with a wobble and a knee in back she went over.
The father was filming his wife and sprog and decided to put the video online and inform the police. No fine or penalty was given and now the Lycra clad cunt is suing the father for deformation by posting the clip online.
Now most people would have sympathy with the family but the fathers name is Mpasa, I will leave you to guess his origins but ironic that it's usually the dark types trying to get compo form whitey 😂😂😂
Nominated by: Sick of It