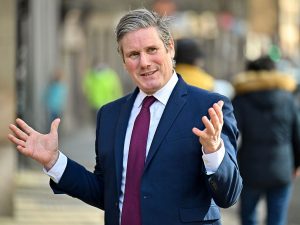 Let's hear it again for this paunchy,pleased with himself motherfucker, who, on the basis of a "sexual assault" claim going back 18 years, wants a police investigation into doddering old Stanley Johnson, who just happens to be Boris's dad:
It's mot just what he says but how he says it, with his gestures and his world weary voice.
You just know the old cunt is at political point scoring when as DPP he failed to prosecute Jimmy Savile and refused to prosecute MPs (often Labour ones) for fraud in the 2009 expenses scandal. All old Stan did was touch a couple of wimminz arses and tell them how nice they were – Savile abused countless children of both sexes, often when they were ill or disabled in hospital.
Starmer should seek advice from his poofter friend Chris Bryant about how to become a vicar – I am sure Bryant would look just as lovely as Bryant loiunging round in his YFronts looking for rough trade.
Nominated by: W.C. Boggs