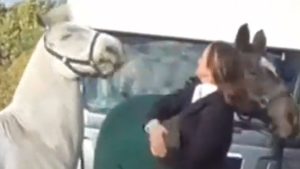 Here's one for the pot, a hunting cunting for the blood thirsty, short fused, hot headed cunt that is Sarah Mould [ i bet mouldy in the crotch area after a good day out slaying innocent wild creatures from the safety of horseback].
Anyway this ugly cunt was stupid enough to be videoed slapping and kicking a horse after snapping because it didn't do as it was told, maybe she wanted the nag to stand still so she could give him a good blow job or some thing and he said no thanks love ive had better, imagine being this loons boyfriend, i bet he's shit scared of this bitch.
The best bit is this twat is a nursery school teacher from Moulton Mowbray , where they are obviously still a little bit in the stone age, so i would imagine its ok there for her to practice her Genghis Khan style of infant teaching [ kind of reminds me of the school full of crazy teachers i was in in the 80,s, they would all be sacked or in prison nowadays]
I wouldn't want this red faced tart with permanent menstrual tension anywhere near my kids, they would be scarred for life and probably gay after spending all day with a violent woman who smells like a horses stable and has a hair trigger temper.
The horse should be given the opportunity to return the favour, now that i would like to see, slag running would be much more entertaining than fox hunting….but im sure that would be made illegal, oh hang on a second isnt fox hunting also illegal.
What's good for the goose, you guys know the rest, Sarah Mould is a treble cunt…
Nominated by: Fuglyucker
And seconded by: Captain Magnanimous
Sarah Moulds is a cunt, isn't she.
This is the foxhunter woman who hit and kicked her horse when she thought nobody was watching but was caught on camera.
Moulds was out with her dressy-up reptiles on a 'hunt' when the incident happened. She repeatedly slapped and kicked her horse in a horrible burst of violence.
Ironically, it transpires that this animal-abuser is a primary school teacher. Does this aggressive coward punch the kids in the head five times like she did the horse? A horse that is an innocent animal forced to go on a hunt with these chinless rats.
If this was the other way round and the horse had attacked this bitch, the horse would have been put down.
Another Hunt Scum cunt who thinks they are above the law. Another Hunt Scum cunt whose actions suggest a genuine cruelty to animals and who should be in prison.
Another Hunt Scum cunt.
Helpful link supplied by: Ruff Tuff Creampuff