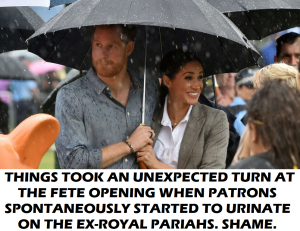 Harry and Meghan
… for must be about the eighty-third quintillionth time now.
According to this:
Boo hoo hurty feelings link.
People are being paid to write mean things about her online. And who might these shadowy figures be, I wonder. Has Her Maj taken this time off from her regular duties in order to slip brown envelopes stuffed with cash to social media types down dark alleys, or maybe, just maybe, it might Machiavellian Meg herself, in the hope that this might provide her with another excuse to go sobbing to Oprah?
You be the judge!
Nominated by: Chimp Licker
And here's another regarding Migraine and her "charitable" donations, courtesy of Meat Curtains.
Markle and Paid Leave.
A cunt's cuntishness is being foisted on us plebs unfortunate enough to not have money trees growing on our sprawling estates.
As a small business owner (7 employees) I can't afford to pay people who are not working unless I somehow project just how fucked I will be annually (anally) and pass that on to my clients.
Life deals us all blows that take us from our jobs at times and those who dare to take on the daunting task of running a business can't absorb everyone's woes FFS.
Hey Me again, along with coffee let them eat cake you deluded CUNT!
Do your worst cunters! She fucking deserves it.