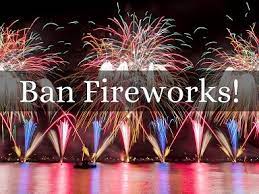 I'd like to Nominate fireworks.
Why on earth do people celebrate fireworks night by buying expensive fireworks to celebrate a traitor, which are also manufactured in China and scares my dog shitless.
I mean it does bare some resemblance to what is currently occurring with what is going on in the U.K. however I wouldn't been seen buying fireworks celebrating fascism or even better still buying off the bat flu wankers.
Just stick the lot up your arse you cunts.
Nominated by: Clown Clown the Cunty Man
and seconded by: KiwiCunt
Second the above nom.
Disturbing the peace is a crime the rest of the year round, or at least will get you a bollocking from Noise Control.
Why then is it OK to let loose with weapons grade detonations with a pathetically weak light show, in the name of "family fun", and the authorities ignore it? Fireworks have been amped to the Nth degree for noise and yet the supposed "visual spectacle" they produce is shit, at best.
Being woken up at midnight, 1am or later by cunts setting light to fireworks is beyond the pale, either as a shift worker, a pet owner or a parent of a young child.
Fuck fireworks, but more so the inconsiderate cunts that think making endless noise is fun.