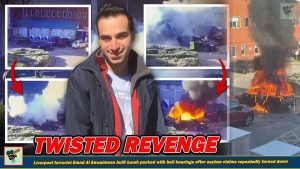 Name above just released by Cozzers as alleged suspect for the Liverpool Remembrance Day Atrocity. Must be careful here – his human rights ect ect – but he is currently unavailable for interview by the Cozzers due the fragmentation of his person by an alleged explosive device he allegedly triggered in a taxi allegedly witnessed by the taxi driver. Others now arrested as part of an alleged conspiracy.
Interesting point of discussion here. All news media including GBN and Cozzers are on the old woke gravy train stating every second sentence that such suspects should not be named because, apart from violating their HRs, to do so only elevates them to the Martyr status that they so crave. Oh also by so doing the viewing public can also work out the suspects ethnic origins which would never do for reasons above.
Also who has noticed that the alleged Liverpool Remembrance Day Atrocity is never so named despite occurring on that very Day and almost bang on the Sacred Hour. Funny that.
For those irritated by my use of the term Cozzer it merely harks back to the classic Liverpooool based crime series Z Cars with Brian Blessed as Fancy Smith. Old Fancy could not speak woke and would have soon sorted out the villains irrespective of ethnicity. Cozzers then did not know the meaning of the word. Cue theme tune and explosions with proper hurtling crime cars squealing on cross ply tyres and real emergency bells.
Another Twilight Zone coincidence. Each time I write "Emad" the spool chicken changes it to "Mad".
Nominated by:Sir Limply Stoke