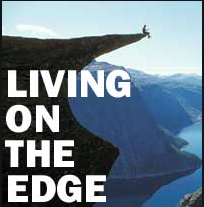 When Facebook and a number of other social media sites went offline across the globe for a few hours two or three weeks or so ago, it got me thinking into how precarious we lead our lives when we engross ourselves with things we've let ourselves become dependent on but have no real control over.
For those 6 or 7 hours tens of millions of people became "unplugged", and there was no contingency for any of them to reconnect until someone else sorted the problem out on their behalf.
Yes, they could fall back to other social media sites they're aligned to, but it isn't quite the same thing when you find yourself unable to access your personal/business profile on your Facebook page.
Moreover, a few days ago here in the Lake District we had several hours without water. Several thousand people were affected, while United Utilities investigated the problem. And again for that period of time we were completely at the whim/mercy of some 3rd party in order for our lives to be reconnected – this time with water.
Similarly, ISP and mobile provider, EE, also went offline 3 weeks ago in certain areas of the Lake District, and is still offline for some people even now. The problem revolves around a mast that was damaged in a storm. EE engineers went out to investigate, but because the mast is on private land, the landowner is refusing EE to enter his property. And therefore thousands of people cannot use their phones or internet devices until a solution is found.
One of my customers rang me up one evening to say the hard drive on his computer had suddenly died and he couldn't boot his machine. I asked him if he had been backing up his data. He said "No, I haven't got time for all that messing about!" Therefore, he was totally fucked because he had lost everything!
Then there was the closure of some fast food retailers during and just after lockdown, and again millions of customers couldn't get their daily/weekly fix because the shops were shut, and there was an outcry on social media. They knew the restaurants were closed but the silly cunts still turned up at the drive-through just to be absolutely sure!
These are just 5 examples, but of course there are many, many more that we would commonly call "First World Problems"
Buses/trains/planes being cancelled at the last minute
Electric power cuts
ATMs out of order
Demonstrators/Protesters blocking roads and motorways
Strikes by teachers, hospital staff, car workers, transport workers, postal strikes
Computer/tablet/phone failure
Food/petrol shortages
Pandemics
Even losing your car/house keys; or the battery on your mobile phone running flat when you need it most and you're miles away from a charging point, can suddenly turn your regular life-pattern upside down, albeit temporarily.
I suppose it proves in someway how a crisis, both personal or national, can disrupt our lives no matter how small or relatively trivial. And in most cases we never have a Plan B so immersed/dependent have we become on all those resources we so take for granted and never really think about until there's a disruption and it becomes an issue.
Nominated by: Technocunt