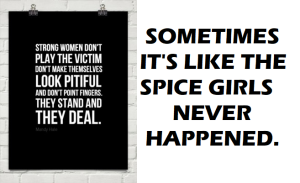 An all girls together cunting please for all the poor victimized wimminz who have crawled out of the woodwork since P.C. Couzins was sentenced last week. It started out with lots of them saying how scared they were of male police officers, how they would either run or scream if one of them dare say hello, hello, hello to her/them.
Then we had the old trick like when a dog bites a child, we read for days after how the family Chihuahua dangerously savaged somebody else's brat or the postman, that every copper who has ever sinned gets his name dragged through the press.
No woman has ever suffered like the current snowflakes though – women as vile and ugly as AnalEase Dodds all claim that they have been assaulted or insulted each tome they put their hooters outside the door – now we have a victim of bottom slapping. Enough already:
Link to bottom slapping story. Go on – click.
Anybody can be a victim if they choose to be. How much easier it would be for the wimminz if all the men were Philip Schofield or Gaylord Mandelson.
Nominated by: W. C. Boggs
And on a similar note, here's another from W.C. Boggs
"DAME" (As in Pantomime) LOUISE CASEY:
Listen up all you rapist coppers – your time is up. All those poor quaking old wimminz like Dame Keir and AnalEase Dodds who fear get taken into the bushes at no notice in broad daylight, and have your knickers pulled down, while a P.C. pushes his truncheon into your quim, and then having racist, homophobic and transphobic sweet nothings whispered in your ear – Louise is on the case.
Boris has done a Blair and employed "Dame" Louise Casey to look into the police, after the rape and murder to investigate their alleged misogyny. That is the young woman (in her twenties at the time), who between cream buns and many missed visits to WeightWatchers investigated, first homelessness ("Blair's homelessness zsar"), then she investigated "manners" – "Blair's Respect Zsar"(and upset senior police officers by getting drunk at a dinner and swearing at them) – I am sure she will go down well. It annoys me that every government has these tame yes men and women (Matthew Taylor, probable quare, is another old favourite) who they call on to hold forth about things they know fuck all about.
I imagine the only contact Casey has had with the police is when they have arrested her. There used to be a Wireless 4 series called Frank Muir Goes Into…… "and investigates the humour of the subject with the help of Alfred Marks" , I am just surprise they don't do something similar with A Case For Casey. It would probably be just as funny. She will be giving Radio 4s Today programme many pompous lady interviews in the months ahead.
Old fatarse has been given so many commissions at fantastic rates of pay, which she always waddles away from months later – her overweening "can-do" attitude yet again defeated – homelessness zsar – there are still numerous homeless people, often army veterans overlooked in favour of homes for the rubber boat invaders. The "Respect" zsar gig – there are still pig ignorant yobs and their tattooed tarts roaming the streets. So it goes on. Cant-do more like, but Khan will be creaming his Tenaladies
No doubt this time next year, after a few high profile meetings – police chiefs to barrage balloon, she will be off again having trousered another large cheque for doing fuck all, apart from looking "important" to celebrate with yet more jelly and cakes and whipped cream by the bucketful.
I doubt she will start her "high profile" enquiry till a couple of really hard-hitting interviews from the Guardian and the Lesbian Labour Ladies Action Committee, so AnalEase, Jess Phillips and Angie Rayner, this might be your last opportunity to get out into London's parks and commons and get lucky, that one of the Met's very, very few sex pests might have a go at you, and give you a mouthful – amongst other things. A girl can dream……