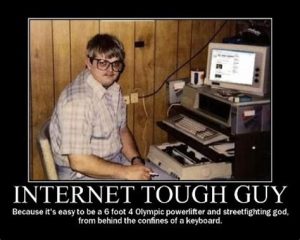 Over the past year, I have seen a massive increase in keyboard warriors who only have keyboard courage.
Snivelling wee cretins with no balls, no courage, no moxie. Forums, YouTube comments sections, Twitter, Facebook. I don't use the last two, but I've seen the spaz-cuntery that goes on there.
It's just staggering how our culture has changed in the last five years wherein we now have these gimps who will engage with you via the written word, but then fall apart within seconds when they encounter a cunt like myself or guys like you as they have never been stood up and had proper language thrown at them in the face of their weasel words and general inadequate life skills like how to have a discussion that doesn't turn into a pearl-clutching, pants-wetting playground scuffle that the teachers (website admin) have to break up, even bad you, even if if was the cretinous wee gimp who started it and you just hit him back harder and he knocked over his bust of Captain Kirk onto the sticky playroom carpet and it woke his mum up from her red wine blackout.
We don't get those type of cunts here at ISAC, thank fuck. But go on pretty much any of the big forums today that used to be fairly free-for-all and you encounter massive, massive, easily-offended, snivelling wee shit-bags who are aged 35-55.
Young people I cut some slack, but these age-group can be the worst. It's shocking how easily shocked some of these cunts are. I'd love to these specimens in real life. I'm actually thinking about asking them to do a Zoom or YouTube Live chat. Nothing nasty, just sit there are say, "so what's you story, brother? What's happening? What's on your mind? It's better without the keyboard, is it? Man to man," and let them lead the conversation.
They won't, as they have no balls, no moxie, no humour. Just jumped-up cunts at a keyboard who think they know it all, despite never having been out in the world, never been through the fire.
Not a great cunting, but it could slipped in on a quiet day. Cheers.
Nominated by: Cunty Gordon