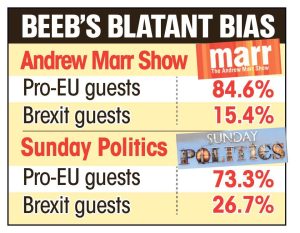 THE BBC BIAS AGAINST THE CONSERVATIVES:
If anyone still believes that the BBC is unbiased, take a listen to last Friday's Wireless 4's News Quiz (18.30 1/10/21 repeated 1227 2/10/21). It's on Listen Again on their website, but before that take a look at one of the main stories on the BBC News website today (4rg October):
An old scandal rehearsed by the BBC and a certain Gavin Millar QC, an 80 something old fool who just happens to be the sister of Fiona Millar, who just happens to be married to Alistair Campbell, poor cow., Blair's press secretary and a course a firm friend of Peter Mandelson,.
Is it a coincidence that this old story surfaces today.? Perhaps – or perhaps not. I know Dame Kweer is desperate, but his anxiety is clearly getting through to the BBC. This is hardly Watergate, but no word from the unbiased BBC about Anthony and Cherie and their very large tax savings, just annunced, just as there was no word on the News Quiz about cervixes or scum. One of the old garts on the panel even said how much she likes Starmer. Imagine if Boris or Trump had made the cervix remark: they would have pissed themselves over it – Starmer: a respectful silence.
I thought Tim Davie was going to clean out the BBC stables, but the shit appears to still be there.
I know there is a BBC thread but this seemed too egregious to be buried there
Nominated by: W.C. Boggs
(Ordinarily this would be moved to the exclusive BBC thread. But on this occasion it merited a Post of its own. – Day Admin)