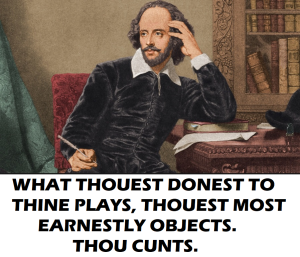 I'm sure that you're all familiar with Shakespeare's masterpiece 'Hamlet, Prince of Denmark'. It's probably the Bard's greatest play; you know, young white bloke, goes a bit loopy and all that…
Naturally down the years we've had all sorts of takes on the play, from Freudian ('Oedipal conflict') to feminist deconstruction, but thanks to the Young Vic, we've now got ourselves 'a new kind of Hamlet', with the exotically named female Cush Jumbo as the Prince. It's 'gender-blind' casting apparently, with some reviews saying that Jumbo's depiction is 'non-binary'.
Seeing as how Jumbo herself comes from a mixed race background, it also looks as though this effort is 'colour-blind' as well, with some rap and reggae thrown in for good measure.
Now I'm all for this 'gender-blind, colour-blind' approach to casting myself. For instance, I look forward with anticipation to see which white actor the Young Vic will cast as Othello when they next produce that remarkable play.
Oh but wait a sec; that 'blind' casting thing does work both ways, right? Well I won't hold my breath, if statements such as 'we must give black talent the stage' from the Vic's Kwame Kwei-Armah are anything to go by.
Erm, maybe I'm being a tad over-sensitive here, but isn't that statement just a little bit, well…
WAAYCIST??
https://www.theguardian.com/stage/2021/oct/05/hamlet-review-cush-jumbo-is-a-remarkable-prince-young-vic
https://www.theguardian.com/stage/2020/aug/15/we-must-give-black-talent-the-stage-says-young-vics-kwame-kwei-armah
Nominated by: Ron Knee
Seconded by: MMCM
Seconded. Theatre companies are falling over themselves in an attempt to make The Bard "relevant" by indulging in gimmicky woke productions and ridiculous casting. The Globe's recent and risible Romeo and Juliet is a case in point.
What they don't understand is that Shakespeare will always be relevant. He speaks to the universal human condition and should be presented "neat". Shakespeare was such a genius that he will always have the last laugh.
'Thou sodden-witted lord! thou hast no more brain than I have in mine elbows' – Troilus and Cressida Dick.