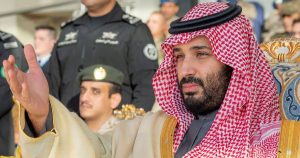 (New owner of Newcastle United, Mohammed bin Salman – Day Admin)
The stupidity, moral bankruptcy and gullibility of football and it's fans.
I refer to Newcastle being taken over by racist, warmongering (Yemen) terrorist backing murderers,(allegedly). i.e. the Saudi royals.
"Alan Shearer says the Saudi Arabian-backed £305m takeover of Newcastle is a "special day" for the club's long-suffering supporters."
Yes, a respected ex footballer thinks this is a good thing. That's how fucking low football has sunk in the cess pit.
The Geordie twats no doubt are looking forward to all ties with the Toon being severed like an adulteress's head in a car park, and a team of mercenary allsorts costing 100's of millions going by the name of Newcastle just like the Gorton pigtrotters do for Citeh. With a manager from Europe. To pander to the Chinese television audience and give a bloodthirsty despot some respectability.
Taking the fucking knee will never be more ironic.
Nominated by: Cuntstable Cuntbubble