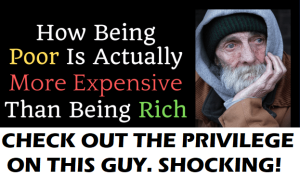 Just recently, I've heard this phrase and I did wonder what it meant. After a phone in on BBC radio I now understand. What this actually refers to is that if you're skint, it's more expensive to live…pre-payment meters, pre-pay phones, expensive lending and poor quality of food you can buy.
Well, the reason pre-pay things are more expensive is that you are a less desirable customer and have at some point in the past been shall we say…."unreliable with your money". I think companies have the right to charge more if they are continually chasing you for money because you tend to waste it on crap. Any company making obscene profits from these folk need closing down and the owners jailing.
Expensive lending? Well, if you're on benefits the last thing you should be thinking of is borrowing money, you have no income FFS. A woman called the show who was on the skank complaining that she couldn't go on holiday abroad or buy little Tommy that Nintendo Switch for Christmas unless she borrowed from loan sharks….Jesus wept.
You have to eat poor quality food if you are less well-off. This is complete BOLLOCKS as I have proved. I ate a sea bass, new spuds and fresh broccoli for less than the price of a McDonalds breakfast…stop buying takeaway food you mongers and get down the supermarket.
I remember a photo recently of a queue for a food bank and they pointed out the Apple phones, trainers, football tops and other junk people have wasted their money on before thinking of feeding themselves or their kids. Makes me sick.
Expensive to be poor my anus.
Nominated by: Spanky Mc Spank