(Why not call it a year instead! Only a matter of time. – Day Admin)
October.
The month denoted to socialists, globalists, and the over-compassionate, subservient indigenous folk, to pay their respects to the history of the black community.
Waitrose, John Lewis, and M&S promote this unnecessary propaganda, and it subsequently causes division. It would take a magnus opus of a cunting to even begin to explain why the remaining 11 months of the year should be celebrated in other ways.
Spasticus was 20 years old in 1990, and this crap didn't exist back then. In my experience, quite the opposite. During the 2 years that I lived in SW London I was verbally abused several times, 'White bastard' etc. I'd done no wrong, just a hippy wandering down the street minding my own business.
So when I saw a BHM poster in their entrance yesterday, I complained to the local M&S via social media. Told them I didn't appreciate being brainwashed.
Maybe take a leaf out of the cancel culture book. Gang up, and pin the cunts to the wall using their own techniques.
Nominated by: Marcus Maximus Spasticus
---
And to add insult to injury, there's this from mystic maven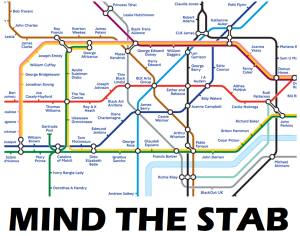 Black History Month Tube Map
I've seen it all now, every station on the London Underground map has been renamed after a black person.
Only black people, mind, not Asians, Orientals etc.
Not much diversity there then.
Probably just a matter of time until they decide to make it permanent.
Strangely enough, I couldn't find Stab Central though.
Nominated by: mystic maven