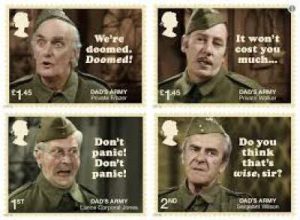 Panicking Brits
Once we were a nation renowned for our stoical endurance and resolute cheerfulness in the face of doom. We spat in the face of adversity and cheerfully carried on.
Neither the Second World War or the Blitz knocked us of our stride. Our grandparents took everything Hitler could throw at them and then simply put the kettle on and made a cup of tea. Panic was not in the British DNA.
But something happened. I'm not sure what but it surfaced at the time of Princess Diana's death when many of the grown men and women of this country suffered a kind of nervous breakdown, the full force of which was directed at the Queen.
Since then it's got worse. The government merely has to say 'there may be a temporary shortage of toilet rolls but don't panic' for Brits to rush out and storm the supermarkets buying hundreds of toilet rolls. We've seen it again this week with the petrol supply issue. Knuckleheads at petrol stations assaulting each other and walking away with plastic buckets full of petrol in addition to the half dozen Jerry cans they have just filled up and the petrol in the Land Rover.
It's a total loss of moral fibre and proportionality. It's selfish and irresponsible.
Keep calm and make a cup of tea no longer applies to the British. Now it's keep panicking and horde 280 boxes of PG Tips before anyone else gets them.
What a nation of panicking cunts we've become.
Nominated by: MMCM