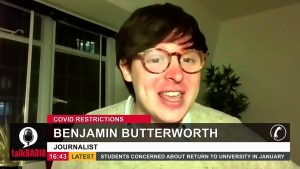 Benjamin Butterworth is a cunt.
Not the venerable Republican US Senator of the 19th century.
This BB is a woke, pansified, lefty, pro-wimmin, anti-men (unless they are gay) remoaner.
He often appears in the left corner on Jeremy Vine's TV show opposing the likes of the redoubtable Carol Malone, and siting Brexit for everything which goes wrong but never anything which goes right.
He is an utter toss-pot of the highest order and I mean that most sincerely friends.
With his foppish hair and round spectacles he makes Owen Jones seem macho.
In the face-slapping stakes I would put him just behind Ronaldo. Mind you, he would probably enjoy that (ooh).
Nominated by: Sir Greeb Streebling