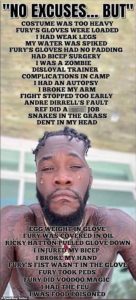 A toys out of the pram cunting for the sore-losing heavyweight boxer, Deontay Wilder, whom admittedly put in a brave performance in one of the best heavyweight fights in years against Tyson Fury.
This is almost a reluctant cunting due to the bravery he showed, but fuck it. What a big baby he made himself look at the end.
For those who missed it, the slightly mad, but oddly likeable Tyson Fury knocked the shit out of him in the third fight between the pair. Fury was down twice himself, but after the third knockdown for Wilder, there was no coming back in this 'Rocky-esque' epic.
There has been a lot of bad blood between the pair. Some believe it is down to Fury's criticism of BLM while Wilder is a big BLM supporter. Who knows? They just don't get on. However, once fights are over, fighters usually at least show respect for each other. Especially after a titanic battle like this one.
Fury offered commiserations and a welcoming hand, but Wilder's (alleged) response was, "I don't want to show any sportsmanship or respect'." He then fucked off down the tunnel.
For fuck's sake. He'd just been involved in one of the great fights and had survived it. Sure, he's going to be pissed off, but what a sore losing cunt.
And if Anthony Joshua actually believes he should fight Fury, somebody needs to stop him for his own good, because I think Fury just might put him in a spacca chariot for life by the time he'd finish with him.
Nominated by: Cuntybollocks