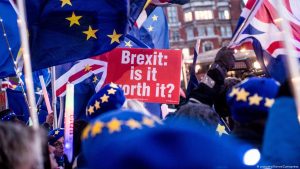 Fellow Cunters, for your Cuntsideration:
Grifters blaming Brexit for all societal problems.
A
Don't blame it on sunshine
Don't blame it on moonlight
Don't blame it on the good times
Blame it on BREXIT
Cunting for the various politicians, journalists, screaming marxists and other assorted arseholes, who still refuse to accept the democratic will of the people of the United Kingdom.
See here: https://ig.ft.com/sites/elections/2016/uk/eu-referendum/ exactly how we voted-an excellent interactive site, which I have shown to various "associates" since the referendum. It disavows some off the myths surrounding the referendum results.
The number of people who blamed Brexit on "thick northerners", "racists", "xenophobes", "misogynists", "homophobes" & of course "gammons", was laughable.
Fuel Crisis-Brexit.
Pandemic handling-Brexit.
Food shortages-Brexit.
Dark-Keys rampaging-Brexit.
Rivers flooding-Brexit.
Global Warming-Brexit.
England losing-Brexit.
They just cannot face the reality. Most people do not live in a metropolitan bubble, they live in the real world that has seen 40 years of poorly or uncontrolled immigration, impact their lives adversely.
They were pissed off with the ruling classes sneering at them.
What did they fucking expect would happen, when the country were given a clear choice?
How many members of parliament voted "Leave", I wonder🤔
Nominated by: Cuntfinder General