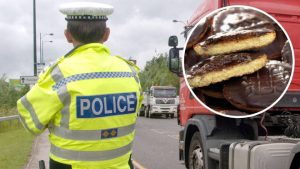 For those who don't know, this cunt underpaid for two packs of Jaffa Cakes at a charity tuck shop set up at Halifax police station, putting just 10p in the tin as opposed to the actual price of £1.
He then changed his story multiple times to try and get away with it and avoid a misconduct charge.
Regardless of whether the charity in question is a genuinely worthwhile one, or just another front for executives to line their pockets, PC Dwyer's brazen cheapskate attitude and willingness to lie AS A SERVING OFFICER when convenient marks him out as a huge cunt.
Nominated by:General Tso's Chiggun