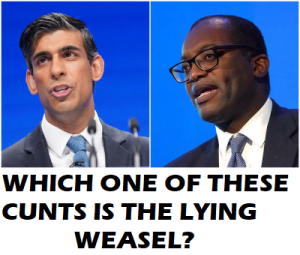 I'm trying to work out who is in the wrong. All I know is that the only person vaguely in the right is Kwasi Kwerteng. 'Kwarteng had suggested that struggling companies would not get much more support from the Treasury.' Fair enough. And this from him directly, "I've not asked for billions. We've got existing schemes. I'm working very closely with Rishi Sunak, the chancellor, to get us through this situation," he said. "I've been very clear we're not going to bail out failing energy suppliers."
Yet the Groaniad are saying this, 'In a highly unusual slapdown, which occurred during a round of broadcast interviews with Kwarteng, sources close to the chancellor cautioned the business secretary against making any promises to companies and said there had been no approach to the Treasury. With an apparent quote,'"Kwasi was mistaken. The facts are that, to date, the Treasury and the chancellor have not been involved in any talks on this topic," one source said.
Do I believe Kwarteng, a Groaniad off the record source or a civil servant who is UNwilling to be quoted without being named.
Bizarrely, I'm with Kwarteng. He is a dark key, after all.
CUNTS!
Nominated by: Dark key cunt