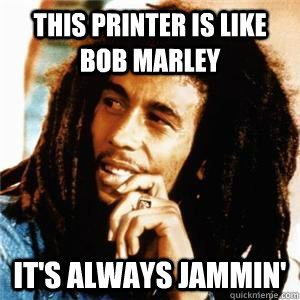 This guy died 40 years ago but it´s impossible to escape from him and his shite music. I´ve just been in a restaurant in northern Spain – the Basque Country where they are fiercely proud of their origins – and what did I have to endure? Basque folk songs about how strong and noble they are? No. Some never-ending live concert of Bob Fucking Marley. "We Jammin´ We´ jammin' Jammin' Jammin' Jammin' Jammin. And I hope you like jammin´ too".
No I don´t like jammin´ Bob. I hate jammin´and I hate you and your dismal plonky plonk "reggae".
I visited Jamaica about 20 years ago for a conference. Not the shithole reality of Trenchtown but the Disneyworld of Montego Bay. Every time I sought refuge from boring PowerPoint presentations in the bar I would immediately be surrounded by groups of wannabe Bobs singing "No woman, No cry" and "Don't worry bout a ting, 'cause every little ting gonna be all right."
One should not speak harshly about the dead but please make an exception for me Mr Administrator. Fuck Bob Marley!
Nominated by: Mr Polly