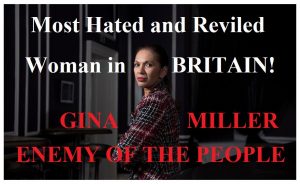 Fuck me – it's back. Just when you think things can't get any worse, Gina Miller, who looks like a long-retired hooker is back. She has formed a new political party:
I just hope she puts up a candidate in every constituency and looses every deposit, then she will have to go and suck Soros's wrinkled old dick up for more cash to put in her handbag (allegedly), as she says "It don't come cheap dearie not with me".#
Who the fuck gave this old bag the impression that she was important? Certainly not the ISAC crowd.
Nominated by: W. C. Boggs
---
And this from CuntyMort
Cunters, for your delectation I give you this sites pin up girl old banana gob F.F.S didn't she fuck off back to bongo bongo land? This vacuous bint now wants to form a new political party.
If this pig with lipstick gets in you can bet your bottom dollar she will be sucking EU sausage and Blighty will be back under the European jackboot P.D.Q.
All cunters on this site will be serving a 25 year stretch for crimes against the queen cunt.