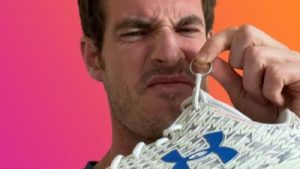 How fucking stupid is this Scots Cunt? I mean you've only got to look at his idiot brother to realise his lift doesn't reach the top floor. As for his hideous mother, you must suspect there has been a history of in-breeding in the family, allegedly
So 'shit for brains' Andy takes his trainers off with his wedding ring tied to the laces and throws them under the team car. He's then shocked to find they've gone missing, wedding ring and all.
If I left a rusty spanner under my car, I'd expect it to grow legs and walk – let alone expensive trainers with free jewellery attached. What was wrong with chucking them IN the car, fuckwit ?
The trainers were apparently 'Stinking', hence why he left them outside. Ever heard of a carrier bag? or maybe a fucking millionaire who gets given most of his gear free by sports manufacturers could afford to wear a pair of trainers once and then donate them to some sports charity or the like – but I forgot, he's a Scot tight arse and hasn't got Shit for brains.
He can still make himself an even bigger twat by publicising his tale of woe to all the papers and tv channels.
What a gormless CUNT.
Nominated by: Lord of the Rings