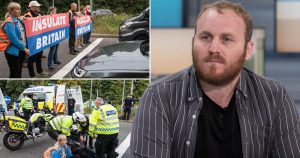 Liam Norton is a ringleader for Insulate Britain
If you thought for a single moment that these cunts had a point, I hope this will disabuse you. I'd like to see these idiots flogged, and I'm quite serious.
Until and unless criminals( And they are criminals) get a punishment in excess of their crimes, they will never stop.
Nominated by: Jeezum Priest
(At time of processing this nom, this news was reported in most news outlets apart from The Guardian, BBC or Sky News – Day Admin)