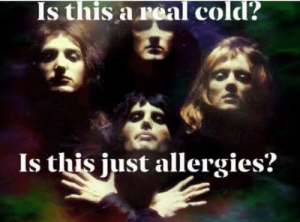 Like most of us haven't been away for for eighteen months so booked a week in the sun.
My return flight was early morning so no time for breakfast, bought a chicken pesto and pine nut sandwich at the airport for the flight home.
As we were taxiing down the runway the stewardess informed us that there was a passenger onboard with a severe nut allergy so please don't open any food we had containing nuts,
Well fuck me one person can starve the rest of the passengers. I'm allergic to screaming fucking kids, large people taking two fucking seats, people in front of me reclining their seats for no reason, people walking up and down the aisle all the fucking time, but I tolerate it.
It seems the minority rule, one person doesn't like a statue pull it down, doesn't like a telly programme cancel it, allergic to anything it everyone else's fault. Well fuck the cunts.
By the way sandwich was fucking lovely.
Nominated by: Elecuntrian