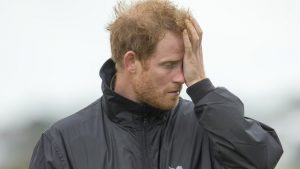 Prince fucking Harry Herbert is a gold plated cunt.
now as I understood it, Harry the arse clown was leaving the royal family and the limelight for privacy.
Now the prick and his whore are never out of press, making cunts of themselves regularly, by their own intentions.
This is not new news I know, but the thing that made me laugh is the ginger cockwomble is genuinely angry about his loss of popularity as he was once the most popular royal to the least, this includes all the shit that randy Andy has going on, his perpetually surprised looking inbred daughters and all the other royal, cling on, arse clinkers including that old cow from I'm a celebrity with the neck like a lizards ball sack, now that saying something.
Amazed the ginger chicken choker is surprised at all, just goes to show, vajaja fever isn't his only problem. The attention seeking Megan media addict has also had him lobotomised to the point now where he is a real life Spitting image puppet, that's now just a great piss taking tool. And there is always new news from these arse holes to take the piss out of, almost like the gift that keeps giving…
Nominated by: Fuglyucker
And supported by: Ruff Tuff
He's also demanding an audience with Her Majesty…
Good luck with that mate, Madge would need sectioning if she agreed to that, providing you with more fodder to slag off her family in your next ghost-written tome and follow up lie-fest with Oprah.