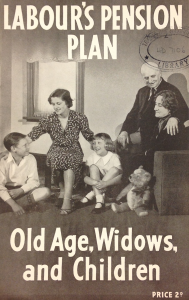 My Mother in law received a tax demand from HMRC just a few days ago suggesting she owes just under £2k in unpaid tax for the current FY. This came as a bit of a bombshell only weeks after losing her husband to cancer.
But on closer detail its all legit because she not only receives a state pension, but also an NHS pension, and her husband's private pension. Add them all together and it amounts to more than her personal allowance of something like £12500 pa, and therefore is liable for tax at 20%
What she didn't realise due to how the tax demand letter was set out was that she only owes 20% of that £1900, which still means a demand of about £380. Not as bad but to her mind still quite annoying. (Unfortunately she's not always rational, and is sometimes hot headed when she sees shit like this when living alone.)
Even though she is 70 and has worked for something like 45 years, paying income tax and of course NICs, she is still hit with tax demands. I realise this affects every retired pensioner with a taxable income, but it really is a kick in the balls to think that paying into pension pot(s) for a comfortable retirement still means being fucked over by the Taxman.
Moreover, what really pissed her off with the news of her sister, who is a year younger, has only worked for about 10 years in her entire life, receives a very small state pension, but is topped up with a number of benefits, which are not liable for tax – benefits that almost equate or perhaps even surpasses what my MiL receives on her state pension alone! (I can't validate if any of that is actually true though.)
She wasn't happy about that, but then when she watches the news and learns about how Afghan refugees and dinghy migrants are handsomely treated via the Taxpayer, it just puts her into a vile rage, spouting the usual statements about "I've worked for 40 odd years, paid my taxes, and then get stung for a tax demand to fund these bastards!"
And it pisses her off even more at the thought of having to sell her home to pay for residential care purely because she's a home owner (after 26 years paying a mortgage for  her current home) and has some savings, all of which could take her over the means-tested threshold!
The working classes that live within their means, take responsibility and earn a crust for 30+ years, get fucked over again and again.
Nominated by – Technocunt