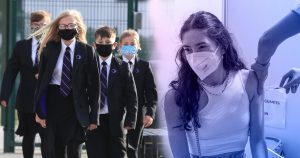 Preface: Admin, I think this particular nom deserves to be on the main page rather than under the 'rona sub-page, due to its absolutely sinister cuntishness.
Nom
——-
The NHS has drawn up plans to vaccinate 12-15yr olds in schools, at term start in just 2 weeks.
There's so many things wrong with this picture: The timing literally 2 weeks from when they want to start so parents have little time to protest. The fact the children are at no risk from CV19 and are at more risk from vax complications. No long-term health data for the vax.
The best part though. Parental consent 'not required' due to Gillick competence. Not old enough by law to engage in various acts that could mess them up, but apparently old enough to take one for the team and trial a pharmaceutical product. No doubt the woke cunt teachers and fat cunt nurses will frighten and emotionally twist them into taking it.
The NHS is supposed to care for its patients. Humans are supposed to have an inherent moral obligation towards the safety of all children. Both of those points apparently count for shit in our morally bankrupt cunt society.
This 'country' is officially done.
Nominated by :The Big Chunky Cunty
(Please keep this civil – Day Admin)