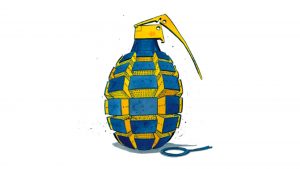 Swedish gun crime. Diversity is strength.
I read about this in today's Times. Quite a shock really. Who'da thought the placid Swedes would indulge in this banditry. So I looked closer. The articles mention neighbourhoods, gangs and youths. The fear of people living in these neighbourhoods and so on.
So I looked closer, and guess what? You wouldn't know it from the likes of the Guardian et al but the perpetrators seem to be entirely of immigrant stock. Yes, rescued from war and terror or perhaps just looking for a soft touch, these cunts are carrying on just like back home. As they are here and in France.
Islam and Africa do not conform to civilised values. And never will. So the dull cunts in Sweden who welcomed these poor, oppressed folk are reaping the whirlwind. As will the rest of Europe.
Link is to the Spectator, which actually says that 90% of gun crimes are committed by immigrants.
Nominated by: Cuntstable Cuntbubble