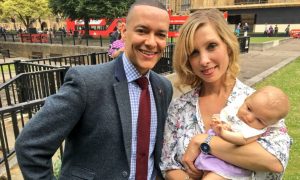 Oh Gawd!
Just when you think it's safe to take the earplugs out, along comes some big mouth to give it large once more.
Let's have a rousing IsAC round of applause then for race-baiting, Brexit-hating Labour gobshite Clive Lewis. In his latest bit of pontificating, the MP for Norwich South is claiming that the Brexit campaign 'had racism at its core'.
Well well… sore loser Remainer plays the 'race' card against Brexiteers. My 'leave' vote clearly had nothing to do with my visceral loathing of the suffocating, bloated, corrupt plutocracy that is the EU. No, according to Lewis's logic, I'm a Brexiteer because at heart, I'm a 'racist'.
According to this twat, Brexit was in essence 'a colossal, post-colonial panic attack' (whatever that's actually supposed to mean). Etc ad nauseum.
Tell you what. I wouldn't half enjoy meeting Mr Lewis down the pub one of these days for a pie, a pint, and a relaxing evening of convivial, amusing conversation. I bet he's a laugh a fucking minute.
Nominated by: Ron Knee