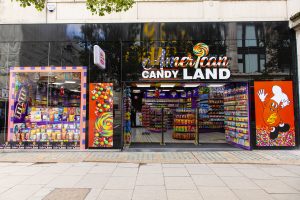 A Cunting please for the plague of American "candy" shops which appear to be taking over the UK's high streets.
Firstly the American term "candy" is an abomination and should be scorned. From now on I will call them "sweets".
These offensive shops are popping up all over the place. For some reason there are 8 in Oxford Street alone. The chief offender is a company called "Kingdom of Sweets" (at least they don't use the term "candy") but there are many others as well as a large number of UK online suppliers.
They specialise in selling to gullible Brits, and at hugely jacked up prices, the most disgusting, sickly, sweet, sugar-laden, unhealthy sweets in the World, viz, the American variety.
American sweets and chocolates are the worst. I was born in the USA and spent the first five years of my life out there and even as a child I found American sweets disgusting – particularly Hostess Twinkies. I much preferred UK sweets and chocolate when we came back to the UK.
If you go onto the website for Kingdom of Sweets you can buy abominations such as Reeses Puffs, Hershey's Eat More Toffee Bar (and dental filling remover), Hershey's Mr Goodbar, Oreo Peanut Butter and Chocolate, Whatchamacallit (which has more calories than you should eat in a year) , 3 Musketeers (300 grams of sugar per bar), Hostess Ding Dongs (don't ask), Hostess Iced Vanilla Zingers, Hostess Ho Ho's (not as exciting as it sounds) and Hostess Banana Twinkies.
Putting aside the question of why so many American confectionary brands carry sexually challenging names (Puffs, Ding Dong's, Ho Ho's, Twinkies, etc), I can tell you that these products are the grossest pap on Earth, one bite of which will give you enough calories to last the year and will turbocharge your cholesterol levels. American chocolate also tastes like flavoured wax – but I'm not sure what the flavour is.
Why is the stuff evidently popular in the UK? I can only assume it's another manifestation of the infantilization of British culture. Hip Millennials think it's fun and trendy to pay £10 + for infantile American sweets. Dopey cunts.
At least we have our Cadbury's – oh, hold on….
Nominated by: MMCM