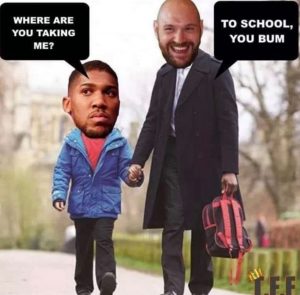 Anthony Joshua
Got his arse handed to him in some big boxing match last night (25/09/2021) against some Ivan called Usyk (or "Usuck" as Joshua once allegedly said of him before the fight).
For the record, I didn't watch the fight, and haven't really bothered with boxing in donkey's years. But from the news reports on the build up to the fight AJ should have had this in the bag no sweat, according to the expert punters!
Turns out he lost on unanimous points decision, but will still pick up a nice loser's cheque of around $15m.
From what little I know of him, he could have been a Frank Bruno Mk2, but with a few more tactical braincells a few years back. But he soon jumped on the BLM bandwagon and more or less took a pop at white British culture, suggesting that BAMEs should boycott White businesses.
Now I don't know if any of that is true, but judging by the comments posted from punters on different sports websites today the allegations do tend to have some meat on them. Subsequently a lot of boxing fans were pleased AJ lost not only because he was tactically outmanoeuvred by Usyk, but because AJ turned his back on Britain and became an insufferable arrogant woke with massive chips on his lumpen shoulders.
I suppose anyone who takes a pop at AJ for his politics and his defeat will be labelled a racist/bigot because that's how it works these days. The media have already started stirring the shitpan just as they did when England lost out on penalties in the Euro2020 finals because 3 dark key England players fucked up with their spot kicks. The MSM defended them, as they are with AJ, against a torrent of "racist" abuse from the usual suspects.
Anyway, for what its worth I am glad the cocky cunt lost regardless of the politics. He has no class, or charisma. Frank Bruno may have been a bit lumbering and clueless with a glass jaw, but he was down to earth, loved British people, was much loved by the nation, and for some was/is a true British hero.
Compare and contrast him to a vacuous, bandwagon-jumping, one-trick-pony like AJ.
You know what I mean, Harry!
Nominated by: Technocunt
——————————————————————————————————-
Supported by: Herman Jelmet
Anthony "Woke warrior" Joshua and Eddie "Greaseball" Hearn
A left right and a southpaw cross from a Ukrainian cunting for this bodybuilder come average boxer and his wide boy cock end of a manager.
As any boxing fan will know, this cunt lost 2 fights in the 2012 Olympics but still managed to walk away with the gold medal.
Since then, thanks to Sly Sports and conman Eddie Hearn, he has been swept along and spoon fed to the public in a media hype frenzy as the sporting face of woke 21st century Britain.
Cherry picked opponents and massive over exposure culminated in his title win over Charles Martin (possibly the poorest title holder in heavyweight history)
Then he beats a 41 year old Wladimir Klitschko in an entertaining battle (the same Klitschko who was taken to school by Tyson Fury 2 years earlier incidentally)
Travels to the states and duly gets battered on his first outing there by a quick handed tubby Mexican who then carelessly relinquished his belts to Joshua months later in the rematch due to the fact he decided to put on 2 extra stones while Joshua ran away from him for 12 rounds.
Titles back – Media hype bandwagon resumes.
Black Lives Matter statue toppling follows and then here's Joshua with a clearly anti white hate speech (which he claims he never wrote) The thick cunt.
Interestingly, where were his management or advisors as he spouted that crap while dressed in black surrounded by other racist terrorist scum?)
He alienated huge swathes of the country by being a cunt yet turn on your idiot lantern and you'd think this bum was the second coming with no mention or condemnation for his racist bile.
Hearn and his team simply avoided Fury and they avoided Wilder whilst milking every last drop out of their limited cash cow and now that should be finally over
Which finally brings us to last night's harsh lesson against a mandatory challenger (not a cherry picked over the hill fighter) who has now practically cleaned up the belts at 2 divisions apart from Fury's WBC belt.
Joshua was so embarrassingly out of his depth last night, I almost felt sorry for him (almost)
Whether he triggers the rematch clause remains to be seen but surely the result would be the same if not harsher for Joshua.
Sorry for the rant but Anthony Joshua and Eddie Hearn you are a pair of prize cunts.