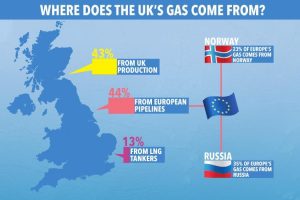 A rather expensive cunting please for the fucking mess that is the U.K. natural gas suppliers.
If we take as a first principle that making money is the reason a business exists and everything else is waffle and bollocks then mapping the demise of many of these greedy bastards is very simple.
Since the great one (Thatcher, for those not so old cunters – Day Admin), sold everything off back in the 80s the key factors that enable our society to function at a much higher level than most of the World have been treated like well any other "thing" to be bled dry, for the mighty moolar.
'Minimum in Maximum out' the motto of most of the butchers who fell upon the body of nationalised suppliers of our daily wants. Even China has a hand in Thames Water.
These failing gas suppliers that we must now bail out started their business to make as much money for themselves as possible. Now due to poor planning bad hedging they are fucked, but rest assured the managers will not be sleeping in a box at the back of a car park.
What was wrong with the Gas Boards anyway? Everything now has so many levels of cuntishness but I suppose it supports employment til everything goes arse up.
Nominated by: Black biscuit
Helpful supporting link provided by: W.C. Boggs
---
And then there's this from Sick of It
Whatever next!
The Blonde Bombshell is in the USA telling the world we have to cut Carbon, while back in Blighty the shit is hitting the fan, Gas prices going though the roof and Christmas will cancelled, not Covid this year (well not yet) but No Carbon Dioxide.
Surely that is a good thing, we need to produce less CO2, Greta will be happy but sadly CO2 is a necessity for food processing. What the fuck has Natural gas got to do with CO2, well it appears that Fertiliser companies can't afford the high gas prices and just happen to be (as a bi product) major producers of CO2.
What a fucking shit show, no gas, no coal, the wind has dropped, days are shortening, energy cowboy companies going bust.
Maybe Arthur Scargill was right, high quality British coal and Carbon capture technology or maybe Nuclear is the way forward.
It's not too late, fuck this Green bollocks, secure a UK self sufficient energy program, once that is done then we can start reducing CO2, after all until China starts cutting drastically it won't make a blind bit of difference