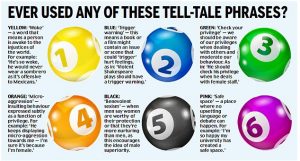 A little bit odd maybe this cunting because I am going to , in the first instance try for an Anti cunting. Yes that's right, initially I would like to anti – cunt Ruth Dudley, the author of the article :- link below.
https://www.newsletter.co.uk/news/opinion/columnists/ruth-dudley-edwards-weak-people-have-let-woke-anti-racist-bullies-thrive-3281359
It is in my mind an excellent riposte to the sod all to complain about generation who just can't stop complaining.
If in your wisdom this is not permissible then I would like to cunt the permanently offended privilege cunts that fill higher education establishments with their idea's of all that is wrong with the western world, (not that much really) woke, cancel culture cry baby all whites are racist shit for the fucking bullies that they are.
Either way they are cunts. And in my mind Ruth Dudley puts their nonsense in its place. Anti cunt Ruth Dudley.
(We thought long and hard over this, but decided to go with the latter. But thanks anyway – Day Admin)
Nominated by: Everyonesacunt