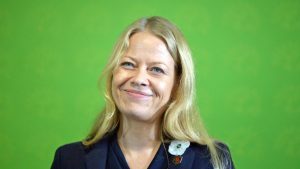 'Green leader resigns'. I thought that's old news. He resigned last month didn't he. Anyway I clicked on it. Turns out that Sian Berry has resigned from the leadership of the Greens. But she was only appointed not long back wasn't she?
It was Johnathan Bartley who resigned last month (to spend more time with his family). He was the co-leader of the Greens for cunters who are unfamiliar with this bullshit. He resigned from the leadership.
Now Sian has resigned from the leadership. And the reasons she gives? A 'lack of leadership' on her part. She felt that the party was sending 'mixed messages' over Trans Rights. So she has resigned. But she doesn't blame anyone NO only herself.
It was HER 'lack of leadership' in persuading her colleagues for a more robust Trans Rights policy. But where was her co- leader in all this? Oh I forgot that's right he has already resigned the leadership to spend more time with his family. So they have gone from a full compliment of leaders to no leadership at all.
What will happen? Well there's a woman called Womack. Amelia. (Could you get a more Green name than that?) And she is the Deputy Leader. But wait a moment if there are two leaders surely there must be two Deputy Leaders. Seems not.
Will this Womack woman take the reigns of power?
I've just googled their constitution and it says there has to be two leaders one from both genders. And the same with the deputy leaders one from each gender. But I can only see one Deputy Leader. And she's a woman. This Womack woman. But then it occurs to me she is not a man. Maybe she's (he's) a tranny and can bestride like a colossus this political gap.
Anyway, come to think if Sian is all for trans rights and presumably doesn't recognise the traditional divide between male and female she is supporting a transphobic agenda isn't she?
As I say I have just googled their constituion. And it truns out that the leader or the co- leaders the deputy leader or the deputy leaders have to be re-elected every two years. That aint very long. That's the reason I thought why we keep hearing of the leadership of the Greens. Or the lack of leadership.
Yes, that's it Sian. You have shown a 'lack of leadership' in your own words. But there is a 'lack of leadership' in your very constitution. I mean a lack of time. If the leadership of the party is up for relection after only two years there is not enough time for the leader or leaders to establish himself/herself. Or themselves.
Nominated by – Miles Plastic
Links helpfully provided by – Jack Nastyface