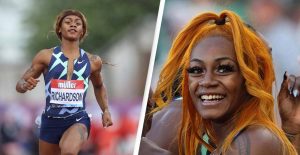 She has been dropped from the Yankee Olympic team for testing for cannabis, which, although not a performance enhancer is still a prescribed drug.
And her reaction? – Cos I is black, innit.
'The Olympics Don't Care About Black Athletes. They Never Did.'
True enough, we have never celebrated black athletes. From Jesse Owens, through Daley Thomson to Usain Bolt, these athletes have been shunned and ignored by the shameful racists of the Olympic Commitee.
How the fuck these blacks perform with such huge chips on their shoulders is a mystery.
Chiggun
https://www.msn.com/en-gb/sport/olympics/the-olympics-don-t-care-about-black-athletes-they-never-did/ar-AALZq3K?ocid=msedgdhp&pc=U531
Nominated by – Cuntstable Cuntbubble