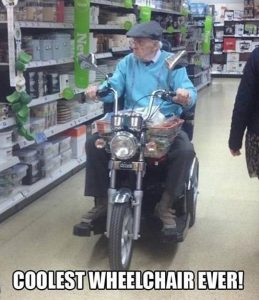 Yours Truly must state for the record that he is older than most of the bastards out there and has total contempt for the gibbering farting pack of 'em.
They use their monstrous heavy sharp edged contraptions as offensive weapons to assault the citizenry about their lawful business while under the delusion that their covid masks make them mister anonymous.
Example: YT had fought his way to the end of the queue at me local Co-Op and was about to make an ethical caring sharing purchase when one of the old fuckers gunned his motor and shot in front of me. Politely informed old scummy scrotum that he was behind me and assumed me rightful place at the Check Out and he had better behave or I would pull his tubes out.
Old Cunto then aims his foot boards at me ankles and tries to block the Check Out aisle with his war chariot. So climb over the old cunt and engage in verbals and make me purchase while he tries to repeatedly ram raid me bollocks.
Politely made the point that if he continued like that he would likely have a stroke and that the slimy bubbles coming out of his nose and mouth were not, in my opinion, a good sign.
Further verbals of an Anglo Saxon nature then to calm him down I disconnected his battery. That did the trick and stopped his morphine pump as well. Made me excuses and left.
Interesting that no-one in the shop intervened or went to help the old cunt despite his obvious distress.
Cruel hard world in the Co-Op.
Nominated by: Sir Limply Stoke