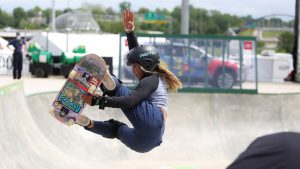 Fuck the Olympics and fuck the names of these kids? Sky and Bombette? Surely the parents were pissed when choosing these names. Why do sports events take priority over COVID? It's a piss take.
Does anybody really give a fuck about the Olympics and why is Sky news hammering this story? Is it because one of the kids is called Sky? The majority of people could not give a flying monkey about the Olympics. The games should have been cancelled months ago.
Fuck off.
13 year old skateboarder set to make history
Nominated by: Cock Blanket
Seconded of a sort by – Dick Foxchaser-Fiddler
Has anyone seen the trailer for The Raspberry Games on Channel 4 ?….like a 3 minute promo for "The Abominable Dr Phibes' Carnival Tent of Terrors"…all that seems to be missing is a bearded lady…he's probably too busy strapping his cock and balls to his thigh before competing in the women's weightlifting event..although,tbf. if mental illness can be considered a disability perhaps The Special Olympics is just the place for The Tranny Brigade…at least they're genuine Nutters and not just some Cunt with a bong-eye or Jeremy Beadle-style withered hand.
" To be a Paralympian you have to have something wrong with you" indeed
"Tokyo Olympics: Team GB women's football take the knee"….and so it starts..a bunch of Cunts managing to combine virtue-signalling with a standard of football that would shame the Byker Grove Special-Needs second Eleven to produce a truly unwatchable pile of utter shite.
I hope their dildos wilt.