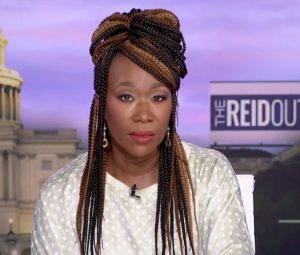 Joy Reid is a US political commentator on MNSBC. She's also a reptile.
There is, at last, a push back in the USA against the teaching of critical race theory in US schools. Whether or not this will turn the tide only time will tell. Eventually, I think it will – but it's going to be an uphill struggle both in the US and here.
Many parents have been attending meetings at their children's schools in the US and many have vehemently protested the teaching of critical race theory saying that it fosters hate, division and racism.
Many of these parents have been quite emotional and a number of videos of these events have gone viral. At a meeting in London County, Virginia, one Chinese parent who lived through the Cultural Revolution said that what is happening now reminds her of those dark days.
The response of the school was to close the meeting and to call the police to arrest the parents – thereby reinforcing the comments of the Chinese parent.
MSNBC anchor Joy Reid played a clip on her show of one these parents who said – 'Just because I do not want critical race theory taught to my children in school does not mean I'm a racist, damn it!'
Reid's response? She laughed and said 'Actually, it does'.
https://twitter.com/MythinformedMKE/status/1389930601566834693
Where is this going to end. Deny you're a racist – then you're a racist. Best to accept that you are a racist and be purged.
Joy Reid represents the very worse type of woke broadcaster and stands proxy for the rest of them, Emily Witless included.
Nominated by – MCMM