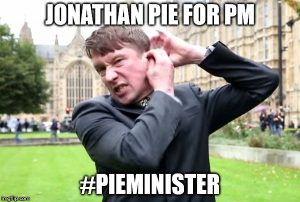 A nomination for satirist/ salty establishment puppet Jonathan Pie.
He fancies himself as a bit of a Chris Morris but has nothing to say that challenges any orthodoxy of anything.
His most recent video is a rant linking the loutishness in London with the racist abuse directed at the three players who failed to score penalties. Since then it has emerged that most of the actual racist abuse was posted by foreign trolls. This didnt stop Pie having a big rant and a sneer at the English working class.
Pie is for the dweebish petot-bourgeios crowd of rootless 'nowhere men' and dumb-as-fuck students who clap like seals to David Mitchell's panel show rantings and watch QI for conversation fodder down the pub.
They think they're part of an intelligentsia but really just thick little lefty bugmen. The same tiresome sort of weakling who worships the odious Stewart Lee and now irrelevant Charlie Brooker. None of them would last 5 seconds against the football fans they despise, or against their mentally unstable fat girlfriends who are frustrated that they've settled for a beta male.
Pie and his bugman chums should remain in the coffee shop where it's safe and pretend to be feminist allies, the creepy little fuckers.
Nominated by: Cuntamus Prime