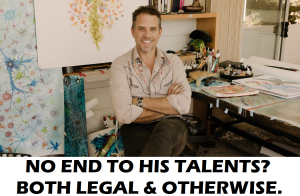 This spawn of a cunt is a case study of a pathetic, fucked up, spoiled politikid who has refused to become a man.
With daddy covering his sorry ass his whole life, he has had no incentive to grow up and take any adult responsibility. His daddy is obviously as good a dad as he is president.
Now Hunter is a pawn for funnelling money to his daddy Joe "Big Guy" Biden. Turns out he paints artwork that admittedly is worthy of a decent hotel room wall. However, art that would normally cost about the same as the frame and glass is being sold for up to $500,000.00!
Any idiot will instantly see what is going on here. The content of his laptop he neglected might be worth that but not his artwork. This tactic is just like Hillary Clinton filtering her pay offs through her family foundation (allegedly – NA). Those payments dried up the day after the 2016 election for some reason.
The list of reasons Hunter is a chrome plated cunt is quite long but this proves he is unrepentant in his choice to be a tool of alleged corruption under his daddy's protection. A sad piece of human garbage. That whole family is nothing but losers with old Joe setting the tone for that legacy to continue unchanged for generations to come.
In opinion most of his art looks like something growing in a petri dish.
Hunter's art raises ethical concerns
(Additional link provided by Night Admin because he hates the Biden clan too – NA)
Nominated by: Meat Curtains