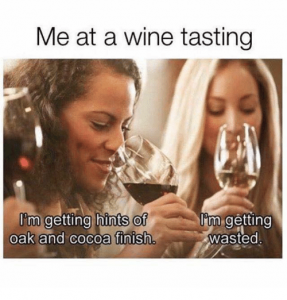 There are not many people more cuntish than wine connoisseurs.
Wine is a drink for the masses. In many countries it is cheaper than water and certainly safer to drink. Even young children get in on the act, half a glass of wine topped up with lemonade.
So why in some countries is the wine thing so fucking poncey?
A stuck up waiter will pour a tiny amount for you to taste.
Just leave the bottle you cunt, it's house red not a fucking Chateau Briand 85.
On to the tasting ritual……
First you have to hold your glass up to the light and check that there are no flies, toenails or corn plasters.
Then you have to stick your nose into the glass to get the aroma.
If it doesn't smell like vinegar then you go on to taste it.A large sip which you have to swill around your mouth before swallowing.
Now you have to say the first and most pretentious thing you can think of.
"I'm getting a hint of saddle soap and freshly mown grass"
It's all bollocks. If you watch a proper wine tasting session you will see that nobody actually drinks the stuff. They spit it out.
The reason is that they don't want to fuck up their taste buds for the next wine.
So why do people buy an entire bottle of expensive wine in a restaurant? They are only going to appreciate the first sip.
Buy just a glass of the good stuff and follow that with a bottle or two of the cheap shit.
I have never worked out what to do with the cork when I am given it in the super poncey restaurants that I have been to.
More research is needed.
Nominated by: The Artful Cunter