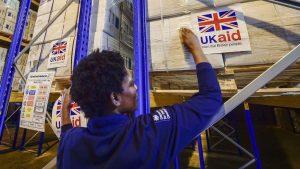 Nothing changes.
https://www.bbc.co.uk/news/world-africa-57703538
How long before the soapdodger needs more funds and starts another LiveAid? Not for himself, of course.
'Recent fighting in the Tigray region of Ethiopia has resulted in a famine that is now affecting more than 400,000 people, UN officials say.
In its first public meeting on the crisis, members of the UN Security Council warned that as many as 33,000 children were severely malnourished. Officials said that a further 1.8m people were on the brink of famine as a result of the eight-month conflict.'
I am sure the warlords could do with some more guns and pick-up trucks. It's a good job this was selflessly sorted out 36 years ago. 'Give us yer fookin money' Did a lot of good didnt it? Well, somehow a scruffy, barely talented paddy got very rich. Allegedly.
All together now:-
Feed the wooorld, let them know it's —–
Nominated by:Cuntstable Cuntbubble
And from a slightly different angle, this from W.C. Boggs
Well, slap me sideways with a shitty stick. In the House of Commons vote yesterday to keep the foreign aid budget to 5%, all the opposition parties voted to reinstate the 7% – just as you would expect Ed Davey's deviants and Starmers Charmers to do, but some Conservatives were of the same mind. Even though Britain is an economic basket case, we should still be throwing money at "poor" countries to continue their space programmes, and line the pockets of corrupt politicians (just like themselves):
MPs Vote for Cut in Foreign Aid
Among them you will notice Theresa May-not and Johnny Mercer. It is clear Theresa did it out of spite ("As Prime Minister, I had members ignore a three line whip") – revenge is a dish best served cold, isn't it, Theresa?. I bet Starmer was singing "Theresa jolly good fellow" in his best choir boy treble.
Johnny Mercer is a publicity whore, who would do a fan dance stark bollock naked in the middle of Trafalgar Square with a pair of wren feathers if there was the chance of a front page spread.
Among other old contemptibles was Andrew MItchell, the snobby roly-poly ex-Minister. Oh, and Jeremy Hunt, another ex minister who still thinks he matters.
Was their disloyalty, really due to genuine feelings, or just another – in the end, futile – attempt to destroy the government?. Who knows, but I hope puppet master Mandelson doesn't advise Dame Keir to run with this one – it will only end badly, because I am sure most people believe that charity begins at home.