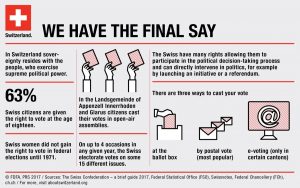 Democracy in the UK.
Power to the people it most certainly is not. Wurzel Gummidge and Aunt Sally decide what is going to happen. Vote Brexit and get Net Fucking Zero instead.
It has to be said that UK democracy is anything but. It doesn't have to be like this. Switzerland have a wonderful system of referendums letting the voters decide policy. I'll repeat that to let it sink in – voters deciding policy. Can you imagine that? Your vote actually meaning something.
In a recent referendum, which included the following subjects, common sense prevailed as voters rejected climate change bollox, voted for a ban on burqas, and rejected the idea of a national electronic ID amongst other things.
Can we have democracy like this in the UK please Mr Gummidge – Aunt Sally won't mind, honestly….
Nominated by: mikdys