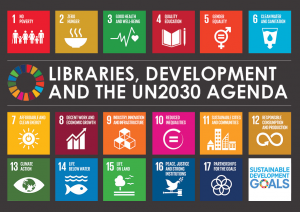 A friend of mine brought this to my attention earlier this morning, and even though I haven't read the details (the document is about 4 or 5 years old), the summary bits that I have read have made me realise once and for all why this country (and many others) is heading towards the – idealistic – goals mapped out in this "Agenda".
Namely:-
Goal 1. End poverty in all its forms everywhere
Goal 2. End hunger, achieve food security and improved nutrition and promote sustainable agriculture
Goal 3. Ensure healthy lives and promote well-being for all at all ages
Goal 4. Ensure inclusive and equitable quality education and promote lifelong learning opportunities for all
Goal 5. Achieve gender equality and empower all women and girls
Goal 6. Ensure availability and sustainable management of water and sanitation for all
Goal 7. Ensure access to affordable, reliable, sustainable and modern energy for all
Goal 8. Promote sustained, inclusive and sustainable economic growth, full and productive employment and decent work for all
Goal 9. Build resilient infrastructure, promote inclusive and sustainable industrialization and foster innovation
Goal 10. Reduce inequality within and among countries
Goal 11. Make cities and human settlements inclusive, safe, resilient and sustainable
Goal 12. Ensure sustainable consumption and production patterns
Goal 13. Take urgent action to combat climate change and its impacts*
Goal 14. Conserve and sustainably use the oceans, seas and marine resources for sustainable development
Goal 15. Protect, restore and promote sustainable use of terrestrial ecosystems, sustainably manage forests, combat desertification, and halt and reverse land degradation and halt biodiversity loss
Goal 16. Promote peaceful and inclusive societies for sustainable development, provide access to justice for all and build effective, accountable and inclusive institutions at all levels
Goal 17. Strengthen the means of implementation and revitalize the global partnership for sustainable development
…. and on and on it goes, waffling out with its globalist ideals (no "Goal 18 – Control Overpopulation", of course), all of which they hope to have in place in just another 9 years, with a footnote suggesting – and I quote –
 The world will be a better place in 2030 if we succeed in our objectives.
Better place for who exactly? And who will be making the greater sacrifice for this to happen?
So its all beginning to make sense why this country is becoming more and more Woke, more and more diverse, more and more open to immigration, more and more Green until all 17 goals have been ticked off by this and future governments come 2030 at the behest of the United Nations and most of its 193 member states.
This could well be The Great Reset and Build Back Better rolled into one, aided and abetted by a global pandemic, and an obedient MSM & Social Media ready to help flatten the curve a little, for the greater good!
Who the fuck voted for the UN to produce this shit anyway?
Globalism is on its way it would seem
Nominated by: Technocunt