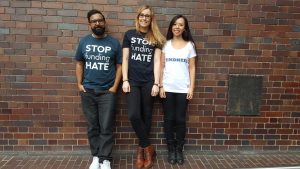 They are campaigning to discourage companies from advertising on the new channel GB News. So far, Kopparberg – a Swedish cider maker, Grolsch – brewer of shit lager, Ikea, the Open University and Nivea have suspended advertising on GB News.
Stop Funding Hate is another example of the hard-left cancel culture supported by ignorant bigots. In the UK, news channels are supposed to be impartial (take note BBC and Sky), and GB News has stated that it will air opinions from across the political and social spectrum. As a result of one of their previous campaigns, Virgin Trains stopped selling the Daily Mail on their trains until Richard Branson told them to reverse this stupid policy.
Stop Funding Hate was founded by Richard Wilson, a former Corporate Affairs Officer at Amnesty International. This stupid cunt probably won't watch GB News and doesn't even read the newspapers that his campaigns target. If he is so keen on censorship he should fuck off to Belarus.
If advertisers continue to respond to his campaigns and cancel certain media outlets, they will end up advertising only in the Independent and the Guardian, which hardly anybody reads, so more fool them.
Nominated by: Hard Brexit Cunt