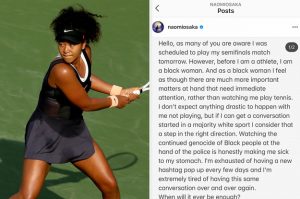 Naomi Osaka is a cunt.
The world no.2 women's tennis player is refusing to speak to the media after matches. Win or lose. She says it is harmful to her mental health.
I think she may be right as it sounds like she has gone crazy.
This miserable e cause for a woman is paid a fortune to play three sets of pat-a-cake on the female circuit. A laughable effort compared to the men who, let's be honest, are the real draw that attracts tv and advertising money. The women's game is a side show dominated for years by the bullying man-mountain that is Serena Williams and her girrafe-legged sister Venus. They now get virtually equal pay for doing much less work and being far less entertaining.
Osaka can no longer be bothered to attend post match interviews which is surely part of her highly paid role to promote the "sport".
Having said that the boring, monotone, bland utterences that these lesbo robots come out with are well worth missing anyway. It's the sheer arrogance of such grim-faced bitches that gets me.
Feck off.
Nominated by: Lord Helpuss
and helpful link provided by: Dick Foxchaser-Fiddler